Dear Fashion Diary,
Usually I'm all about layers, layers, layers. But this time I decided to take
David Thorough's advice and "simplify"!
Sometimes a girl just needs to be warm and comfy without the fuss of a bunch of accessories. This was on a freezing cold day and this go-to cable knit sweater is just what I need to warm up in! I look forward to winters Specifically because of this sweater :)
And if I ever want to be very comfortable but feel like a million bucks- I simply put on these jeans. I'm sure we all saw them on The Daybook,
and I coveted them ever since their appearance on her blog. I almost bought them full price, but my patience paid off because I got them on sale for about 80% off!
It never fails to wait for a sale.
Yes, you can quote me on that proverb.
As for the shoes- I decided there still wasn't enough sparkle in my life and bought these on clearance, $9! They go with just about everything so prepare to see these babies around here more often.
Pants/sweater: Gap///Sparkle flats: Old Navy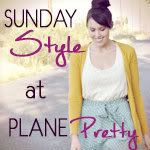 "